Safeguarding Properties: Clandestine Drug Lab Site Remediation
Canadian Decon Solutions is a leading provider of professional drug lab cleanup services in Ontario. We understand the inherent dangers posed by clandestine drug labs and are committed to ensuring your safety and peace of mind. With our team of licensed, insured, and certified hazmat technicians, we deliver comprehensive solutions that exceed industry standards. Trust us to handle the complexities of drug lab remediation, prioritizing your well-being and the restoration of your property.
Understanding Clandestine Drug Labs
A clandestine drug lab is where criminals produce synthetic drugs such as methamphetamine, heroin, and MDMA (commonly known as "ecstasy"). These labs pose significant dangers not only to those operating them but also to nearby residents and first responders.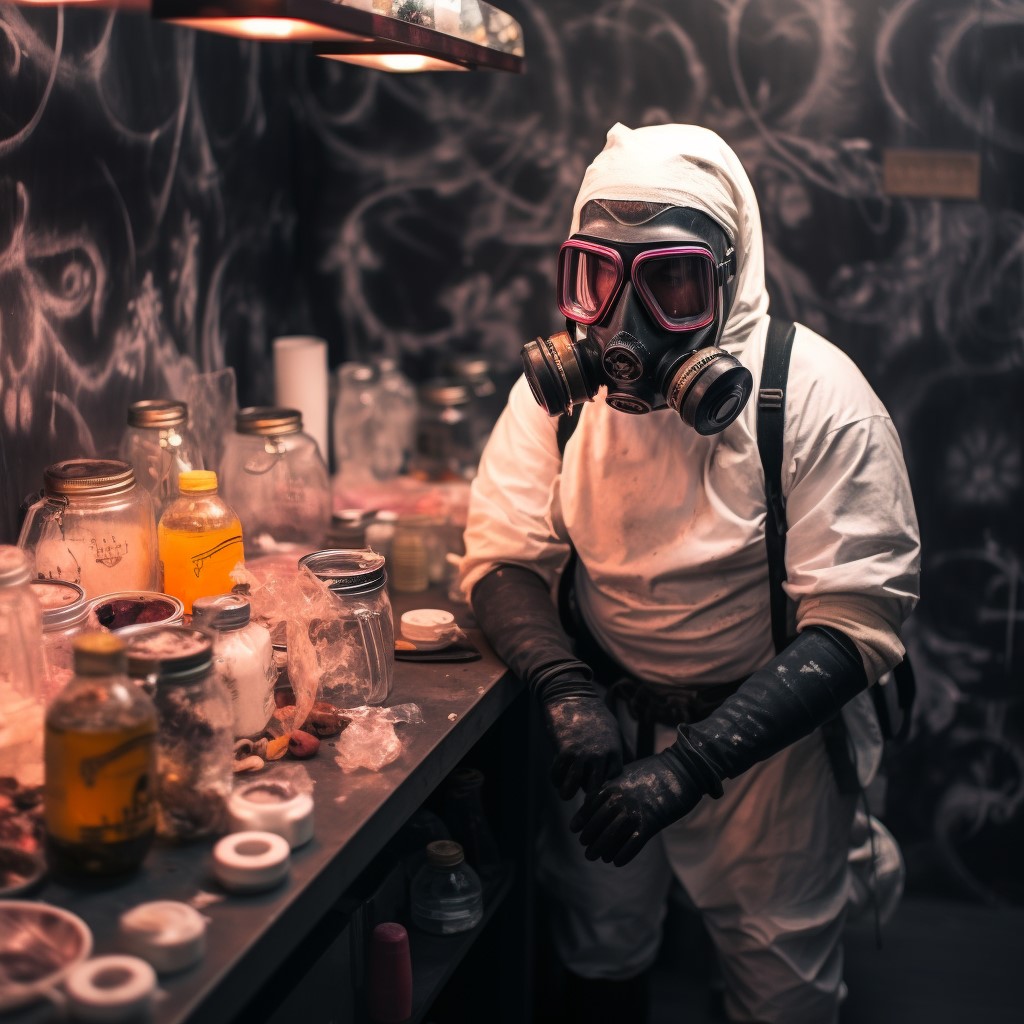 Recognizing the Hazards and Risks
The hazards posed by clandestine drug labs are significant. They include the potential for fires and explosions resulting from solvents or highly concentrated gases, health risks associated with toxic chemicals, contaminated air and surfaces, compromised well water, electrical hazards, and chemicals that can ignite upon contact with air or water. Exposure to the potent drugs being produced, leaking or damaged compressed gas cylinders, oxygen-deficient or toxic atmospheres, as well as damaged and leaking chemical containers, are additional risks to be wary of. 
The Dangers of Fentanyl
Fentanyl, a synthetic opioid, poses grave dangers due to its high potency and prevalence in illicit drug labs. Its presence in clandestine drug labs presents a significant threat to the safety and well-being of individuals and communities. At Canadian Decon Solutions, our hazmat experts possess a deep understanding of the risks associated with fentanyl and are equipped with the necessary knowledge and expertise to safely handle its removal and cleanup.
Unmatched Expertise and Safety for Clandestine Drug Lab Cleanup
Our drug lab cleanup service is an all-encompassing process of remediation. With a strong emphasis on safety, our team conducts thorough risk assessments that guide the entire remediation procedure. By securing the property, we create a safe environment for all personnel involved.
Our highly skilled technicians collect samples of air and substances to conduct comprehensive contamination tests. We employ state-of-the-art HEPA air filtration techniques to initiate safe ventilation, preventing the spread of contaminants to adjacent areas. Any contaminated waste that cannot be salvaged is diligently removed and disposed of in strict compliance with regulatory guidelines.
Safety at the Forefront
At Canadian Decon Solutions, safety is always our top priority. We take extra precautions and work closely with local authorities to adhere to government agency regulations. Our commitment to safety is further reinforced by the installation of Naloxone kits and the implementation of comprehensive safety procedures. We prioritize the well-being of our team, your property, and the surrounding community.
Ensuring Thorough Cleanup and Complete Peace of Mind
Our dedicated team specializes in containing, removing, transporting, and disposing of all chemicals, drugs, and by-products found in clandestine drug labs. Utilizing meticulous cleaning and decontamination techniques, we leave no stone unturned, restoring your property to a clean and safe pre-condition or even an improved state.
Efficient and Transparent
We believe in open communication and transparency. Throughout the entire remediation process, we carefully document, label, and report every finding, providing you with a comprehensive record of each step taken. Our detailed proposals and extensive documentation meet the stringent requirements set by government regulations for drug lab cleanup, instilling confidence in the quality of our work.
Contact Us Today:
Take the first step toward a safe and clean future. Contact us today to discuss your specific needs, receive a personalized consultation, and let us help you navigate the complexities of clandestine drug lab cleanup. Trust our expertise, professionalism, and unwavering commitment to your well-being. Don't compromise when it comes to your safety—choose Canadian Decon Solutions, your reliable partner in drug lab remediation.