FiberTect dry decontamination wipes and pads are a three layer, inert, flexible, drapable, non-woven composite substrate for absorbing and adsorbing chemical warfare agents (CWA), toxic industrial chemicals (TICs), and pesticides. FiberTect is self-contained and packaged for easy use, storage, and transport. Materials used in the outside layers may vary to provide both absorption and adsorption properties and multiple functional uses.
Wipe Away Bulk Chemicals
Effective Dry Decon of: · Persons· Weapons· Sensitive Equipment
Fabric Retains Toxic Vapor
Absorbs and Adsorbs Toxic Materials
Activated Carbon Nonwoven Fabric
Devoid of Loose Particles
Indefinite Shelf Life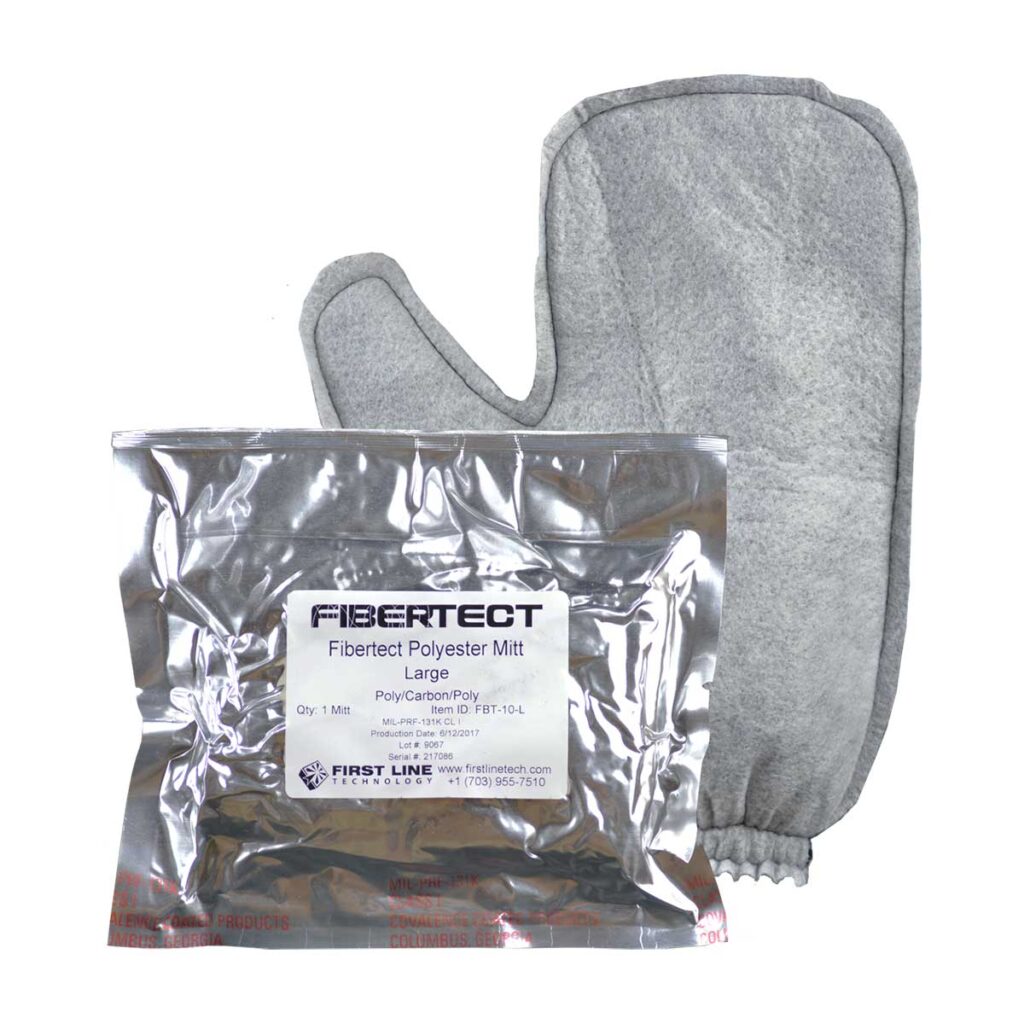 Three Layer Design
The three layers of material consist of a top and bottom fabric with a center layer of fibrous activated carbon that is needle punched into a composite fabric. The top and bottom layers provide structural coherence, improving mechanical strength and abrasion resistance. FiberTect is non-particulate and is devoid of loose particles and is effective in decontaminating personnel and sensitive equipment.
Variations
FiberTect can be in different forms, including sheets, cut pads, continuous roll or a mitt that can be worn over gloves. Additionally, it can be produced with various final densities, thicknesses, and tensile strengths depending on the specification and customer requirements by varying the needle punching methodologies (needle penetration per square inch, NPPI) used to mechanically entangle the fibers of the composite. FiberTect® allows for easy clean-up of bulk chemicals on people, weapons and sensitive equipment.
FiberTect Mitt
The mitt allows for easy clean-up of bulk chemicals on people, weapons, and senstive equipment and can be used over gloves.
FiberTect Wipe
The wipe is a versatile piece of cut cloth that comes individually wrapped and can be used in a variety of individual dry decon situations.
FiberTect Roll
The perforated roll of FiberTect is ideal for instances in which the amount of dry decon needed is not known. The roll comes perforated into (20) 12″ x 12″ wipes.
Want to know more about us?
Just download brochure...